Welcome to the SimVRlabs club!
Here you will find all of our VR modifications for download AND learn more about us! 
You must be a member of the club to download any files so please go ahead and join up.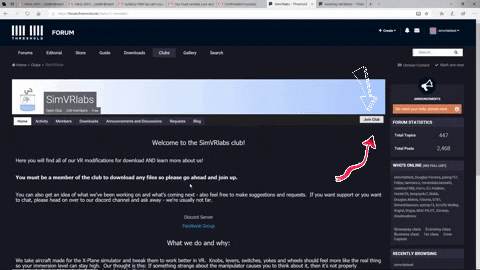 You can also get an idea of what we've been working on and what's coming next - also feel free to make suggestions and requests.  If you want support or you want to chat, please head on over to our discord channel and ask away - we're usually not far.
What we do and why:
We take aircraft made for the X-Plane simulator and tweak them to work better in VR.  Knobs, levers, switches, yokes and wheels should feel more like the real thing so your immersion level can stay high.  Our thought is this: If something strange about the manipulator causes you to think about it, then it's not properly optimized.  It should just look, feel, and act "right".  That's our goal. 
These are unofficially supported mods, so be sure and follow the instructions for each aircraft carefully.  Don't forget to make backup copies of your old files.
The idea here is not to "fix" something that the developers left undone.  We are a part of the birth of VR for X-Plane!  Most of the developers are juggling the creation of new aircraft (which brings income) and the demand of bug fixes with the "moving target" of x-plane updates.  Many of the devs have stated the intention to update these "pre VR and baby VR" aircraft to full VR capability.  What we want to do is fill in that gap so we can enjoy VR piloting to the fullest until updates come out, and give it away for free.  The marriage of these beautiful add-ons with VR is impressive enough to deserve this kind of attention.
As you know, add on aircraft are expensive, and I need to OWN it to throw it in the lab - please consider an optional PayPal donation.